The Woodvale Public Hall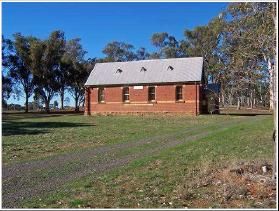 What: The Hall and kitchen are both available for Hire. It is suggested that the venue would be suitable for birthdays, weddings, large and small meetings, parties & dancing.
The facility is equipped with whiteboard, reverse cycle heating and air conditioning, ample large fold up tables and chairs, crockery, kitchen & cooking facilities with fridges, hot water unit, * portable public address & music system etc. There is also an outside barbeque and pergola which are situated in the secure and expansive grounds.
Where: The facility is located at 34 Daly's Road, Woodvale 3556
When: Bookings are available any time.
Cost: $100, plus Public Liability Insurance ($25), * Additional $10 hire fee for Public Address/music unit.
Bond : A $200 Bond is required per hiring to cover damage etc, returnable on satisfactory handback of the hall.
Who: Contact Carol Davis on Tel: 5446-7802
Woodvale Public Hall Pergola & BBQ Facilities
---
The Woodvale Recreation Reserve
What: Facilities include: Tennis Courts (one net permanently erected), sports oval, cricket pitch, playground, electric BBQ facilities & seating, shed, public toilets (open 24/7).
Where: Janaways Road, Woodvale.
When: Local residents and visitors are welcome to use the Recreation Reserve and its facilities at any time. Reservations are available for hire for special functions.
Cost: $60 Per Hiring
Who: For bookings:- Contact: Tel: 5446- 7487.
---
Woodvale Tennis Courts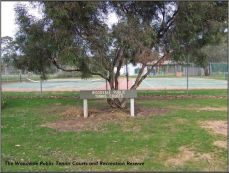 What: Senior and Junior Teams
Where: Woodvale Recreation Reserve, Janaways Road,
When: Meetings at the end of August to establish teams. Competition commences 1st week in October. Play days on Saturdays, new players are welcome.
Who: Contact Tel: 5442-7487
---
The Woodvale Rural Fire Brigade
What: CFA , Country Fire Authority Brigade Meetings
Where: Woodvale Fire Station, Cnr. Rileys Rd & Loddon Valley Hwy.
When: First Monday of each month, commencing 7:30pm
Who: Captain, Jim Hickson on Tel: 5446-2148 or 0427485884
The Woodvale Junior Fire Brigade
What: Junior Fire Brigade Meetings
Where: Woodvale Fire Station, Cnr. Rileys Rd & Loddon Valley Hwy.
When: 2nd & 4th Tuesdays of each month, (excl. school holidays).
Who: Contact Jim Hickson Tel: 5446-2148
---
Notleys Picnic and Camping Area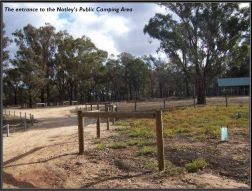 The Whipstick area is steeped in history, and there is much evidence of the gold-mining era, as well as the early eucalyptus oil industry.
Woodvale is fortunate to have as one of it's assets, the Notley's Reserve and Camping Ground for the enjoyment of both residents and visitors.
The ease of access, close proximity to Bendigo and Eaglehawk; and the diversity of natural and cultural values, make the State Park attractive to those interested in nature study, bird watching, walking, gold fossicking, picknicking, horse riding and camping.
The Notleys Reserve and Camping Area provide visitors with an ideal base from which to venture into nature and enjoy all the attributes of the Whipstick and Bendigo State Forest and take home with them wonderful memories of their camping and "bush setting"experience.
---
Shadbolt Picnic Camping Area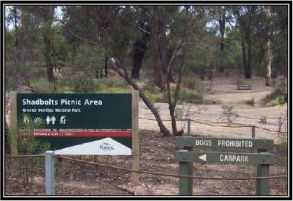 Shadbolt Picnic area is a located at Woodvale in the beautiful surrounds of the Whipstick State Forest. Holding picnics in this pristine area give visitors the opportunity to view the unique and diverse Whipstick plant and fauna. The area contains a number of rare and endangered plant species, being the home to a very diverse fauna. The Parks' natural features attract visitors from Bendigo and tourists from further afield. The picnic area posesses the facilities to support an enjoyable day out with the family in quiet and enjoyable surroundings.
---
Woodvale Community Notice Board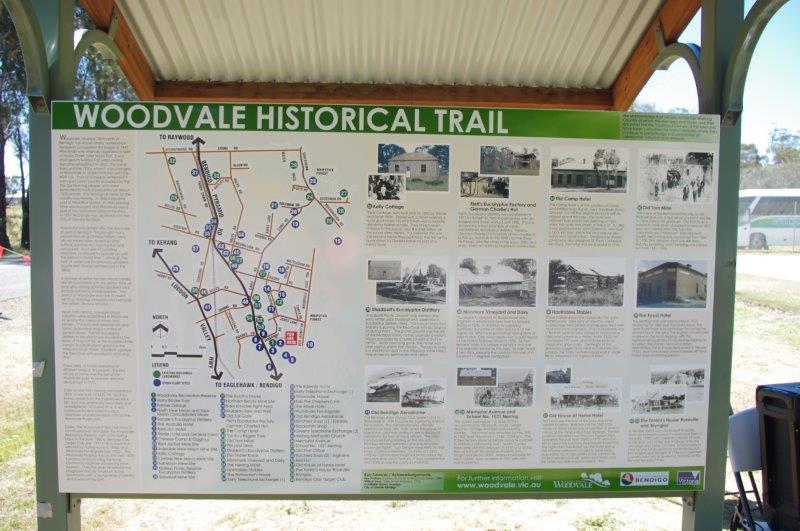 New Community Notice Board Location at the Recreation Reserve
This notice board, in conjunction with this web site serves in promoting the community, events and activities in support of our residents and area, and is located at the Woodvale Recreation Reserve. It also contains the "Woodvale Historical Trail" sign.
In October 2016 through funding grants from the City of Greater Bendigo and the State Government of Victoria, the Woodvale Historical trail sign was erected. This provides a reference point for historical information relating to the Woodvale community.
The notice board is managed by the Woodvale Progress Association on behalf of the community. Rules exist for appropriate and applicable content for display on the Community Notice Board, details of which can be viewed on the notice board itself, or by contacting the Secretary of the Woodvale Progress Association.
The Notice Board is now located at the front of the Woodvale Recreation Reserve. Notices can be posted through the Secretary of the Progress Association. (See Directory)