Queen Elizabeth II, Jubilee Tree Planting Celebration
Woodvale Memorial Avenue
34 Daly's Road, Woodvale 3556
Event launch and celebration: 3pm Sunday, March 19th 2023
Woodvale Community Memorial Avenue
Hi Everyone,
The federal government of Australia, through the offices of our local MP Lisa Chesters kindly provided a grant of $5,000 to the Woodvale Hall Committee of Management to celebrate Queen Elizabeth II "Planting of Trees" project.
The Committee of Managment, through this grant have planted seven native trees, in our "Memorial Avenue", each tree being placed in remembrance of the seven fallen WWI local soldiers behind their respective existing memorial crosses.
A plaque celebrating the event will be placed on our existing memorial stone below the "Rising Sun" emblem.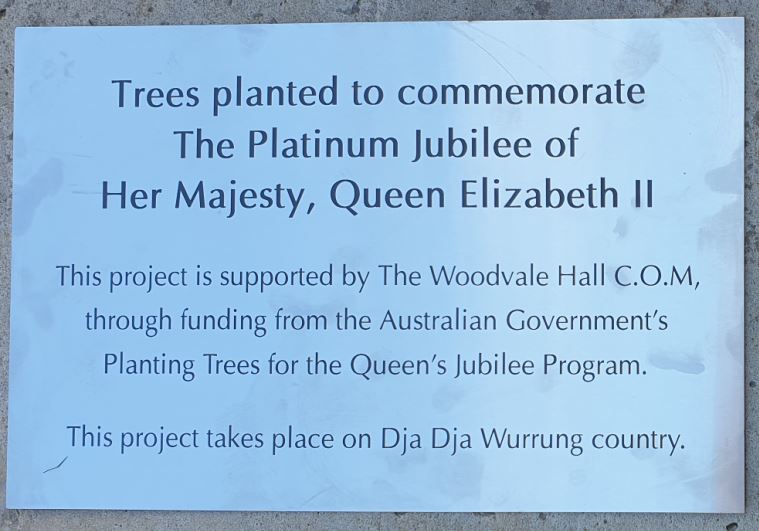 You are all cordially invited to the celebration and unveiling of the plaque at 3pm on Sunday 19th March as indicated above. There will be a celebration afternoon tea provided to visitors in the adjacent Woodvale Hall after the event.
The event will be conducted by the President of the Woodvale Hall Committee of Management, and the official unveilling will kindly be performed by our City of Greater Bendigo Mayor, Ms. Andrea Metcalfe.
The event will be promoted through community letter drops, local and social media....
Come along and celebrate with us and enjoy the event with a cuppa and afternoon tea where you can meet your neighbors.
------------